The Drachengott is a four-book fantasy series published in 2015, which takes place in a Germanic country called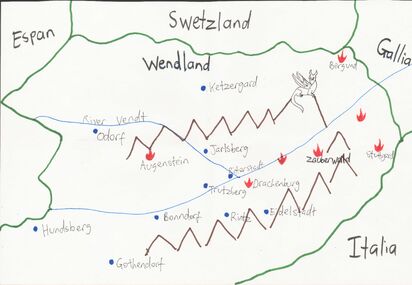 Wendland. Wendland is overshadowed by the Drachengott: a colossal dragon who lives on a mountaintop. His worshippers, the Jungen, wield magical powers, and they and the lesser dragons serve the Drachengott. The commoners, or Gottlosen, who do not follow the Drachengott, are persecuted or used as servants. Meanwhile the rebellious Ketzer, Jungen who have turned traitor, use magic for their own selfish purposes.
Then, one day, a dragon is condemned and outcast by the Drachengott. Her name is Syn, and she dreams of the future - a future in which the Drachengott will die. Four humans, each holding a special weapon, will bring about his downfall. Thirsting for revenge, Syn sets out to find those people - and she is prepared to do whatever is necessary to destroy the Drachengott and set Wendland free. But it may not be as simple as that...
Books
Characters
Locations
Groups